14K Gold Tree Style Name Necklace Customizable Personalized Fine Jewelry

A simple tree style font is featured in this split chain 14K gold name necklace. If you want to standout of the crowd this necklace will help you reach your goal. No need to wait for a special event to sport this necklace, it will dress up your neck for any occasion and bring many compliments. The letters of the names are designed by placing it in a creative way where the letters somewhat branch out in a tree format hence the name.
Specification:
Material: Solid 14K Yellow Gold
Size:
Width : 0.75″ - 2.0″ / 19mm - 51mm
Height : 0.2″ - 0.4″ / 5mm - 10mm
Thickness: 0.4mm / 0.02″
Double Thickness 0.8mm - $54.95
You can choose from two styles of Chains:
Chain Style: 14K Gold Box Chain / 14K Gold Twist Chain
Chain Length: (How to choose the right chain length?)
14″ Chain (35cm) – Child
16″ Chain (40cm) – Youth & Adult
18″ Chain (45cm) – Adult Size

The necklace is 100% handmade to guaranteed to be unique! Hand crafted out of solid 14K gold ensures a unique and enduring piece of jewelry. Surprise your loved one by giving them a gift that is just as unique as they are. Choose from three different chain lengths and two chain styles. These name necklaces are crafted to meet the highest standards of workmanship and beauty and can be personalized with one name or one word with one capital letter for each necklace with up to 12 letters with desired chain length. Make someone's special day even more special with this elegant personalized necklace.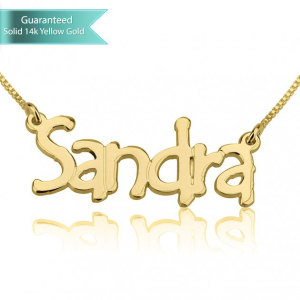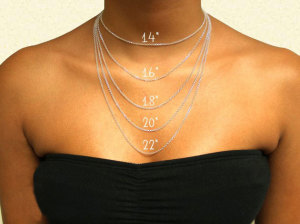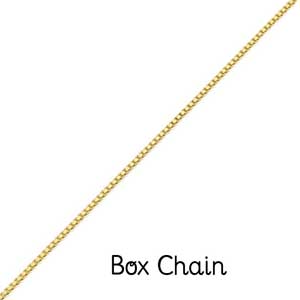 I do not make this jewelry. I just sell it.